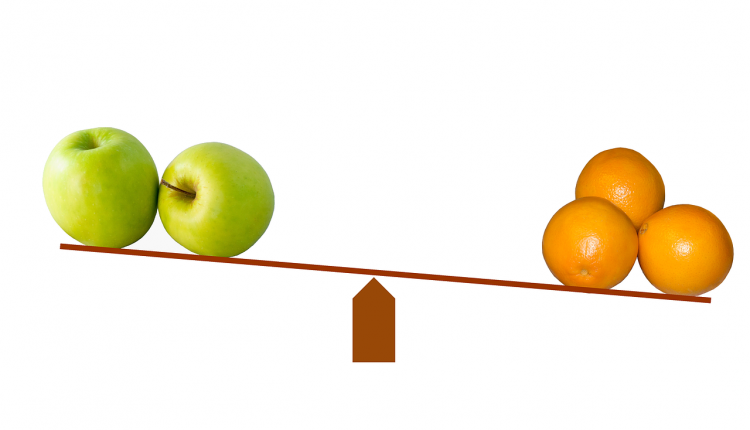 ULIP vs. Mutual Funds – The Winner Will Surprise You
Fight between ULIPs and ELSS is a golden contest of financial instruments. In a country where maximum investments occur due to tax rebates, it is not surprising that tax-exempt schemes get the limelight. People have asked this question ever since the ULIPs and Mutual Funds competed in the investment space. Even, the regulators fought for the control over who sets the rules of the game. However, all that is now sorted. But the question remains, 'in the final quarter of a financial year, when you must invest to save your precious income falling into government hands, where do you invest? ULIPs  or ELSS?'
What is ULIP or ELSS?
If you already know, better scroll down and get to the point…
For the uninitiated, ULIP refers to Unit Linke Insurance Plan and ELSS refers to Equity Linked Savings Scheme. ULIPs are life insurance policies with a large chunk of investment attached to it. In a way "ULIP = Mutual Fund + Term Insurance". You can also call it, a life insurance policy where you can select where your money should be invested.
Unlike endowment or money back plan, where the investment component of the only investment option is safe debt instruments like govt. bonds or gilts, ULIPs also offer equity funds and hybrid funds as investment options as well.  Endowment and money back life insurance plans are collectively called traditional life insurance, or simply life insurance plans.
Those who are familiar with mutual fund investments would know that mutual funds allocate units at NAV (Net Asset Value) to the investors. For example, if you invested Rs. 10,000 in a mutual fund and the fund NAV is Rs. 10, you are allocated 1000 units in the fund against your investment.
Similarly, ULIPs also assign units to their investors against the invested money. Also, there is an inbuilt term insurance cover too for the policyholder. Thus the name, 'Unit Linked Insurance Plan.'
ELSS needs little introduction, though. ELSS is simply an equity oriented mutual fund, which allows investors to claim deduction under section 80C.
Where To Invest ULIP or ELSS?
While most blogs and analysts will side with either, here we present an objective answer. Our answer is based on our analysis of multiple factors associated with both ELSS and ULIPs. If anyone ever tells you that ELSS is better, we'd say they are assuming. We have analysed 25-year performance for both ELSS and ULIPs and the answer will surprise you…
And the answer is, "It depends on your investment horizon. If it is less than 12 years, you are better off with an ELSS, if it can be more than that go with ULIP."
Given below is the comparison of two aspects of both ULIPs and ELSS schemes. However, to give both schemes a level playing field we have added term insurance cover with ELSS. Thus, the sum invested in ELSS is also sustaining a term insurance cover for the investor. The sum assured of this term cover is same as it would be in the ULIP; i.e. Rs. 10 Lakh.
The Recurring Charges
Both schemes have recurring charges applicable to the invested amount, but over a longer term, ULIPs recurring charges are lower than 'ELSS + Term Plan'. The exception, however, is the first five years (see figure below).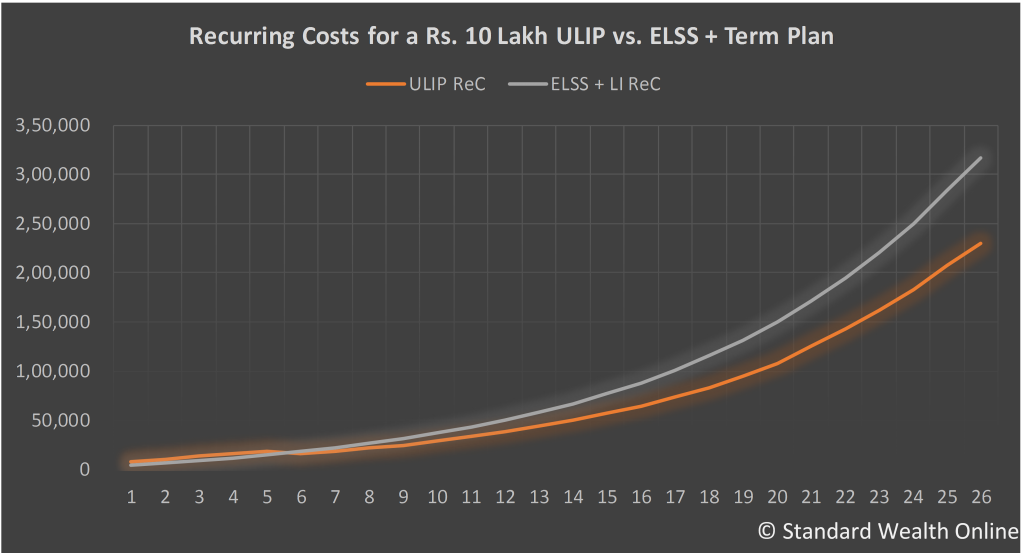 The Investment Yield
Investment Yield refers to the annual compounded rate of return you achieve for a period of investment. The comparative yield curves for both schemes is given below: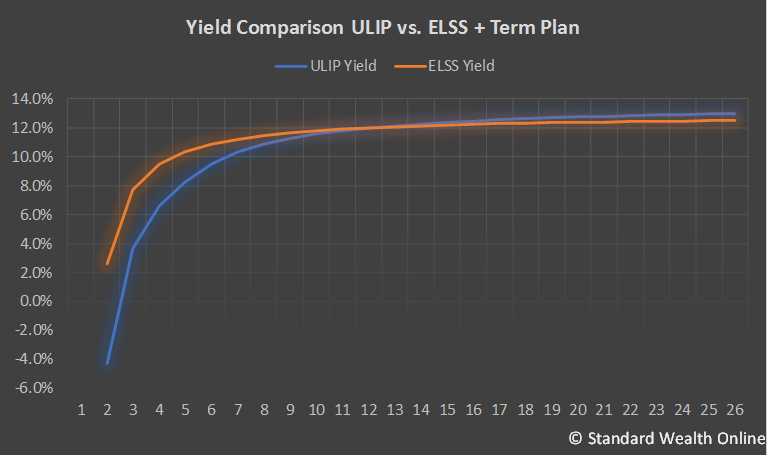 The yield curve for ULIP surges ahead of ELSS + Term Plan in the 13th year of investment. For the first 12 years, ELSS + Term combination offers you higher returns.
Does ULIP Win Hands Down?
Not really. There are quite a few caveats to higher ULIP returns than just the holding term of 12 years. Following are those conditions:
Annual Investment: Both estimates (given above) assume that money is invested annually in both ULIP and ELSS + Term
Life Insurance Need: Both estimates assume that investor needs a life cover with at least Rs. 10 lakh sum assured
Long-Term Commitment: Both estimates assume that both ULIP and 'ELSS + Term' investors are committed for a long period; i.e. 10 to 15 years at least
You are Comfortable Investing in Equity: The estimates assume that investor has chosen equity fund in the ULIP, and does not switch to debt in the investment term
Changing any of the three conditions will alter the estimates in favour of ELSS. Also, out of the three the 'long-term commitment' is the trickiest. It is here the ULIPs suffer the most. Since, if you want tax deduction as well as good investment return, you must commit for at least 15 years. That too, with annual investment, and not with one time or partial premium payment term.
Also, if we remove term insurance from ELSS investment, ELSS will have lower annual expenses. Though ULIP will still offer better returns, ELSS will enjoy a longer period before ULIP beats it.
So Should You Invest in ULIP?
Yes, if the following apply to you:
You can commit for a long period of time, say 15 to 20 years
No problems in investing a fixed sum each year (you can go for monthly mode)
Don't mind spending a little on the small amount of life cover offered with the ULIP
If you are not comfortable investing in equity market, but still want tax benefits and good returns
When To Invest in ELSS?
If you are an experienced investor and know where you are putting your money, you probably already know the answer. But, if not, here are the conditions when ELSS will score over ULIPs. If you:
Do not want to commit for very long period, but still can hold off for more than 5 years
Are unsure if you can invest the same amount next year
You already have a term insurance cover and do not need additional life insurance
You are comfortable with the ups and downs of equity market
This is an objective analysis, based on the current expense ratios of ULIPs and ELSS schemes. The assumed expense ratios are provided below. Any change in these ratios in future may warrant a revisit to the calculation board. Till then the analysis provided above holds true.
Why ULIP Wins in Long Run?
The answer to this slow catapult lies in the way charges are applied in both ELSS and ULIPs. Both schemes have their own advantages and disadvantages. For example:
Advantage ULIP: The recurring charges are applied to the premium paid instead of fund value. Unlike ELSS, where the amount of charges applied automatically goes up if the investment performs better.
Advantage ELSS + Term: The mortality charges are constant over the investment period. Unlike ULIP, where the mortality charges increase as the policyholder ages.
Expense Ratios for ULIPs & ELSS
Expense Ratios for ULIPs as of May 2017
Year
1
2
3
4
5
Premium Allocation Charge
6%
5%
4%
4%
4%
Policy Administration Charge
0.21%
p.m. for 1st year
2.52%
p.a.
0.10%
p.m. for other years
1.20%
p.a.
Mortality Charges per mille
30
40
50
60
1.59
2.72
5.81
13.98
Fund Managemen Charge
1.35%
p.a.
Expense Ratio for ELSS schemes as of May 2017
Transaction Charge
1st Investment
150
Consecutive Invest.
100
Recurring Charge
Rs. Cr.
1000
First
100
2.50%
2.5
Next
300
2.25%
6.75
Next
300
2%
6
Next
300
1.75%
5.25
Other Assumptions
The investor is 30 years of age for both ULIP and ELSS
The return on stock market is consistent with 15% CAGR
The total Asset Under Management (AUM) of ELSS is Rs. 1000 crore or more