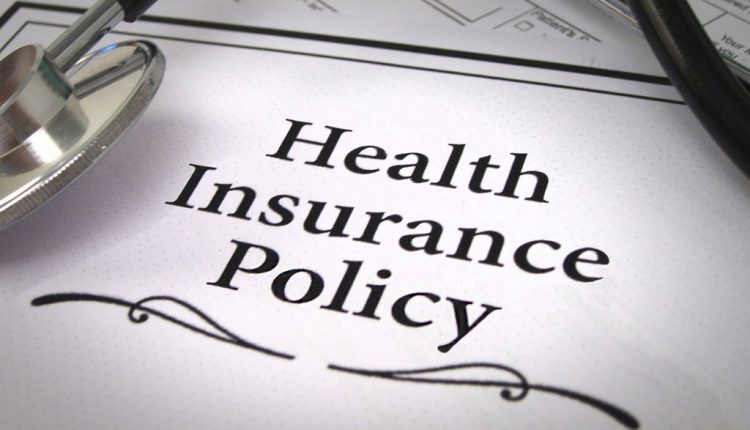 How to Buy Health Insurance Policy for Your Family?
Insure your family and yourself for emergency medical expenses, know how.
Buying health insurance is easy. Although it may sound like a complicated financial product, health insurance is a need in today's economic and living environment. It would be wrong to think that you need to know all the little nooks and crooks about it to be able to buy a good health insurance. In reality, all you need to be clear about is what exactly you should spend your hard-earned money on.
Remember health insurance is not something you will start using tomorrow, but it's an equipment which comes handy in an emergency only. Something, which "may not" happen anytime soon. Therefore, you should be clear what you would like to pay for. In this article, we account for all these and more to present to you five easy to follow steps to buy a good health insurance plan for yourself and your family.
Buying health insurance for your family is a simple five step process:
1: Decide the Cover Amount (Deciding Sum Insured)
2: Decide the Additional Covers
3: Compare the Plans Online
4: Select Your Purchase Mode
5: Complete the Application Form and Pay Premium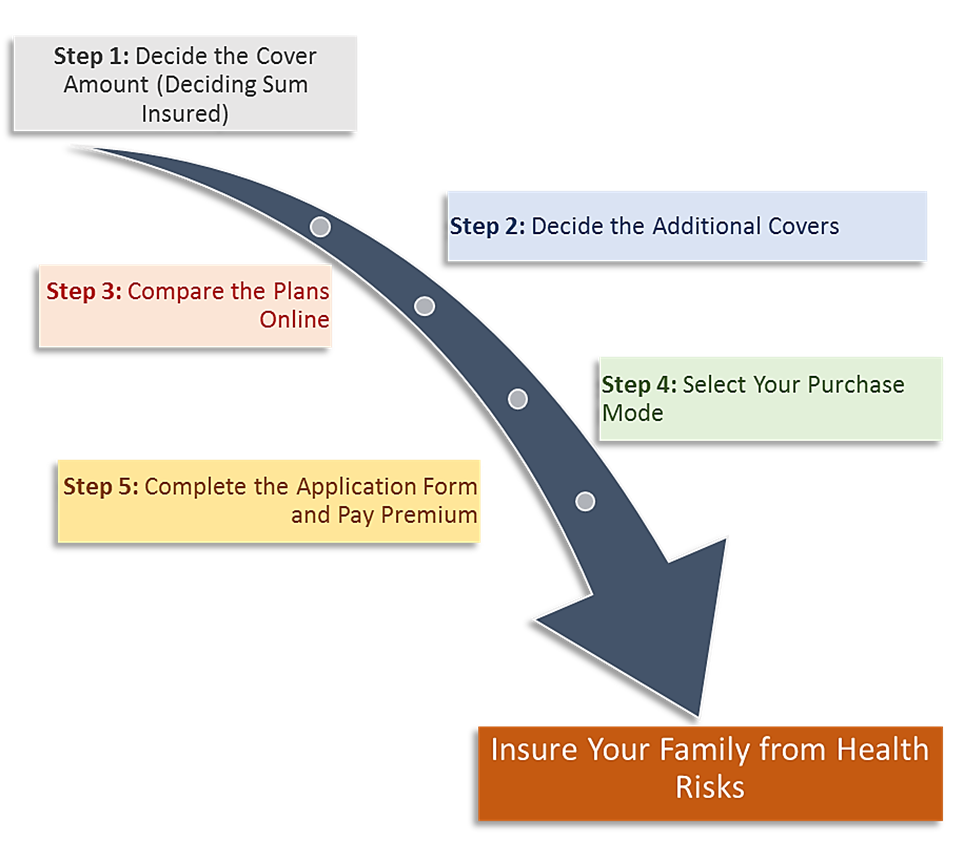 Step 1: Deciding the Cover (Sum Insured)
Sum insured decision rests upon the lifestyle and the level of financial strength you have. Usually, you should consider hospitalization of one month for each family member in one year and the possible expense for that.
For an average middle-class household of four, where both spouses are working and earning a total income of Rs. 10,00,000 or more, a sum insured of Rs. 500,000 per family member will be sufficient.
However, since you cannot change the sum insured as per the inflation next year, you will need to revise the amount. Sum insured of your health plan should be large enough to suffice for next 5 to 10 years.
Step 2: Decide the Additional Covers
It is likely that you may not have thought of critical illness cover or accidental disability cover before. Most investors simply buy a term life cover and health insurance (Mediclaim). Generally, only to fulfill their tax deduction eligibility and because these two are the most promoted insurance covers in the media.
However, chances of permanent disability due to an accident, and getting a life-threatening disease is equally likely at any stage of life. To understand critical illnesses, think of cancer, heart attack, kidney failure etc. which may be treatable , chances of survival in any of these cases are low.
Being infected by a critical disease may require you to shell out anywhere about Rs. 10 – 25 lakhs, even more depending on the stage of the disease. Similarly, a permanent disability may affect your income potential for long term. Therefore, following additional covers should be included in the health plan:
Critical Illness Insurance
Accidental Death and Disability Insurance
Both critical illness and accidental death & disability insurance can be added to your life insurance plan as well, where these riders may allow for a premium waiver benefit as well.
Step 3: Compare The Health Insurance Plans Online
Comparing various health insurance plans has become easier than it ever was. Not just that, you can even look for additional information and a second opinion as well, just in case you wish to verify everything before buying.
The comparison can be done manually by collecting information on various health plans from different health insurers, or you can look at the collective comparison of multiple plans at one place on the following portals:
The list is not exhaustive but these are the most used and reliable health insurance comparison portals you can use.
You can also see the best health plans listed on our website here.
Step 4: Select Your Mode of Purchase
Gone are the days when you will have to visit a branch office or call an insurance agent to buy anything. Health insurance is no different. Though agents are not obsolete, you have new and more convenient ways of buying health insurance now:
It is possible to buy most health policies online now, even directly from the insurer. In other cases, if the insurer does not have a working online application system, they can send a representative or the application form to your location and help you to complete the same at your convenience.
Through the Aggregator/ Insurance Brokers
Most of the compare sources mentioned under step 3 are Insurance aggregators or insurance brokers. You can buy your choice of policy from one of these aggregators as well.
Note: The SWO is not an insurance aggregator or broker.
Step 5: Completing the Application Form
Completing the health insurance application form requires some time. Here is a list of information that is required to complete the form and documents that you will need to upload along with the form:
The Information on the Form:

Name, Address, and Date of Birth of the proposer of the policy
Name, Address, and Date of Birth for all the insured under the policy
A valid E-mail address is important if you are buying online
Details of the ID/Address Proof document you will be providing
Photographs of all the proposed insured persons
Nominee Details (for policies with critical illness or accidental death rider benefits)
Details of existing insurance covers for all the proposed insured persons
A health and lifestyle questionnaire for each proposed insured along with briefs about recent health issues and treatments
If insured are beyond the exempt age of medical, that will also be needed, and the proposed insured has to undergo a medical check-up
Premium payment details; i.e. cheque, D.D., or NEFT transaction details, (in the case of online payments through aggregators this may not be needed).

Documents Needed:

One Valid ID/Address Proof (PAN, Passport, Driving License, etc.)
Aadhaar Number and Card for all proposed insured and proposer
Medical reports as required, depending on health conditions, existing illnesses etc.
What Happens After Completion of Application Form?
After you have completed the application and submitted all documents submitted, there are three possibilities:
Best Case: Your documentation and application are complete and the insurer accepts your proposal, in which case a health insurance policy is issued to you in 15 to 20 days.
Mediocre Case: Some of your documents are missing, or insurer needs more documents to verify some of the information provided in application form. In this case, the insurer informs you and asks for additional documents. The insurer will issue the policy once everything is complete.
Worst Case: Insurer finds your proposal to be a higher risk and asks for an additional premium or rejects the case. Outright rejections are rare, however, the insurer may ask for an additional premium. The insurer will issue the policy if you agree and pay the additional premium.
If you don't wish to pay the additional premium you can apply to another insurer and see if they accept your proposal at normal premiums. However, the premiums are generally higher than normal in the presence of a pre-existing illness, disability or disease.
In case you paid premium online and your application did not result in insurance cover somehow, the insurer returns your premium after deducting health check-up expenses if any.