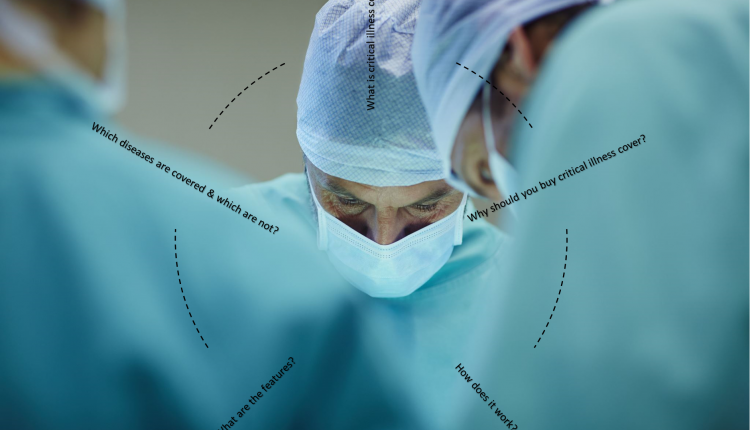 Critical Illness Insurance
What is Critical Illness Insurance?
Critical illness insurance provides financial safety against life-threatening diseases like heart failure, cancer, renal failure, and even paralysis. Although critical illness insurance covers diseases it is not a Mediclaim policy.
Unlike Mediclaim insurance critical illness cover does not consider the cost of treatment or hospitalization of the insured. Instead, the primary condition for payout in critical insurance is the diagnosis of an illness and its stage.
When the diagnosis for the insured comes positive for a covered illness, the policy will make a lumpsum payment regardless of the actual cost of treatment.
Critical illness insurance is also known as terminal illness insurance and critical health cover.
Why Critical Illness Insurance?
Critical illness cover fills the insurance gap for individuals and families between a life insurance plan and a Mediclaim insurance (or health insurance). While the life insurance safeguards the family against the death of the breadwinner, health insurance safeguards the long-term investments of the family.
However, there are certain illnesses which can lead to both huge medical costs and conditions where the breadwinner cannot earn money. For example, cancer treatment may go on for more than a year. With regular therapies, the treatment is not only costly, but the disease remains highly unpredictable. Even after huge expense on treatment, chances of the disease re-emerging or spreading terminally are high.
So, there are two ways a family will need support:
Take care of the treatment costs
Look after the household expenses
While life insurance may come in handy if the insured dies, critical health insurance will ensure the family can sail through the treatment period.
Features of Critical Health Insurance
Modern critical health plans include many features to make life easier for the affected families. Some of the important features are:
A higher number of conditions covered
Regular income payout option along with the lump-sum payout
Premium waiver options
Disease-specific critical insurance covers, e.g. Cancer insurance, Heart insurance (also CABG cover)
Hospitalization Benefit option
Indexation Benefit option
What is Premium Waiver Option?
Premium waiver option allows the insured to stay covered without paying any premiums under the same policy after a partial claim. The family will be in a tight financial situation once the breadwinner is diagnosed with a life-threatening disease. Thus, it makes sense to have a feature that allows the cover to continue without paying an extra premium after the diagnosis.
Why Cancer or Heart Insurance?
Different illnesses carry different degrees of risks. If you evaluate all the life-threatening illnesses on the following two questions:
What are the chances of contracting this illness?
What are the chances of survival after contracting this illness?
You will find that cancer and heart failure are two illnesses affecting the highest number of people and causing the maximum number of deaths. Thus, a separate cover for these two major health risks seem logical.
Another reason for separate critical cover for cancer and heart disease is that you can get better coverage than a generic critical health cover. For example:
Cancer insurance covers early stages of cancer as well, unlike the critical health insurance
Heart or cardiac care insurance can cover many procedures otherwise not covered by a general critical health insurance, such as, minimal invasive CABG, pacemaker, and ICD
What is Hospitalization Benefit?
Though hospitalization benefit may sound like a normal health insurance (i.e. Mediclaim), it is different in case of critical health cover. Unlike Mediclaim where the payout is a percentage of the cost incurred at the hospital, critical cover pays a fixed sum every day.
You can avail this benefit only for a limited number of days within a policy year. Also, the benefit amount is based on the sum assured of the policy rather than the actual money spent at the hospital.
What is Indexation Benefit?
Indexation benefit in critical health insurance is the same as a no-claim bonus in Mediclaim policies. It refers to the increase in cost or benefit due to inflation or preservation. Indexation feature allows you to increase the sum assured (benefit amount) in your critical health plan every year. The benefit may apply until any of the following is achieved:
Total benefit amount (base S.A. + Indexed S.A.) hits the maximum ceiling; for example, if the maximum ceiling is 200% of base S.A. indexation benefit would apply till total available S.A. doubles up.
A claim is made on the policy
Remember the indexation benefit only applies for the years when there is no claim on the policy.
Example of Critical Illness Insurance & Features
Saurabh has bought a critical illness insurance plan with a basic sum assured of Rs. 10 Lakhs (benefit amount) at the age of 30. He pays an annual premium of Rs. 2000 for the cover. At the age of 45, he was diagnosed with stage-III kidney failure. As per the conditions, the policy will pay Saurabh 70% of the full benefit amount; that is Rs. 7 Lakhs.
Saurabh can use this money to take care of his treatment expenses as well as ensure that his household keeps running smoothly.
Since his policy also has premium waiver benefit, he does not need to pay any further premiums to continue the cover. However, the total available benefit amount will be only 30% of the sum assured available before the claim.
Saurabh had to spend 1 day at ICU and 4 at non-ICU care at the hospital for his treatment. As per the policy conditions, he is eligible to receive Rs. 10,000 per day as hospitalization benefit. The policy has provision for a total of 10 days hospitalization benefit in one policy year. Thus, after the claim, Saurabh has 5 more days of hospitalization benefit available for the same policy year.
Which Diseases Will A Critical Illness Insurance Cover?
The diseases a critical health insurance covers usually have the following three characteristics:
These are life-threatening
Impact the lifestyle (and earning capacity) to a great extent for a long time
Cost of treatment is high (though may not require extended hospitalization)
Major Illnesses & Health Conditions A Critical Illness Plan Will Typically Cover
| | |
| --- | --- |
| Alzheimer's Disease / Irreversible Organic Degenerative Brain Disorders | Loss of Independent Existence |
| Apallic Syndrome | Major Head Trauma |
| Benign Brain Tumour | Motor Neurone Disease with Permanent Symptoms |
| Blindness | Multiple Sclerosis with persisting symptoms |
| Cancer of specified severity | Myocardial Infarction |
| Coma of Specified Severity | Permanent Paralysis of Limbs |
| End Stage Liver Failure | Stroke resulting in permanent symptoms |
| End Stage Lung Failure | Third Degree Burns |
| Kidney Failure requiring regular dialysis | Parkinson's Disease |
Note: This list of diseases and illnesses represents the majority of the conditions most critical health plans cover. Insurers, however, may offer to cover more conditions depending on the policy features. You can check the policy brochure or document from the insurer for the exact list of illnesses.
References:
IRDAI: https://www.irdai.gov.in/
IRDAI Policyholder Support: http://www.policyholder.gov.in/