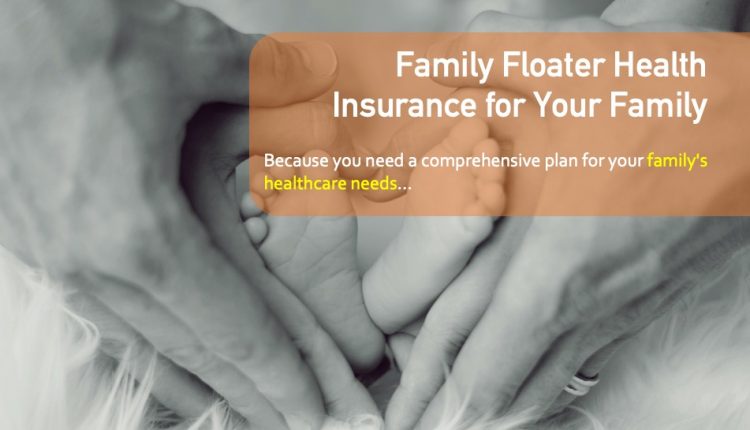 Family Floater Insurance Cover in India
Health insurance is an important part of your contingency plan. However, this question can baffle you to a great extent, "Individual health plans or a family floater." While, it's an easy choice while you are single, the moment you start a family you need to consider the benefits of family plans. Family floater insurance cover is one of the important decisions you must arrive at soon after starting your family.
This article explains in details the benefits, features, and advantages of family floater health plan. See if it makes sense for you to have a family floater health cover instead of multiple individual health plans.
What is a Family Floater Insurance Policy?
A family floater is one of the popular ways to cover your family for their emergency healthcare expenses. This insurance plan works much like a typical health insurance plan, but there is one crucial difference – it covers an entire family under one single plan.
The family for a family floater health plan may consist of any of the following combinations, depending on the conditions from the insurer:
Small Family: Self, Spouse & 2 children
Joint Family: Self, spouse, 2 children & parents
Cover for In-laws: Self, spouse, 2 children, parents & in-laws
Only In-laws: Self, spouse, 2 children, in-laws
Extended Family: Self, spouse, 2 children, parents, in-laws & siblings
Note: Number of children eligible for cover under the same policy may differ from insurer to insurer. A few insurers may allow up to five children to be covered under the same family floater plan.
Unique Aspects of a Family Floater Plan
It covers the entire family rather than an individual on the payment of a single annual premium amount
It is possible to add-on parents in the policy. This ensures comprehensive coverage
Family floater policies can cover maternity costs, under regular plan or as an add-on benefit
You can now extend the cover to include dependent parents, brothers, sisters or even in-laws at an extra premium cost
Expert Advice
"Buy a separate cover for parents and in-laws, even if you have the option to cover them alongside your spouse and child."
There are couple of reasons to do that:
You will have a larger cover amount available to your family
The cover for spouse & child will stay unaffected due to a claim from the elderly
The premium cost of the cover would be higher (especially if your parents are a senior citizen) but the annual tax exemption u/s 80D will equalize the extra cost
You can go for a health cover more suitable to the needs of seniors in the family, which are often different than the younger members
Benefits of a Family Floater Insurance Plan
Economical
Each of your family members can have a large cover available to them under family floater cover. Compared to the individual plan the cost of similar cover is lower with a family floater. For example, if you buy a health cover for a family of four with a sum insured of Rs. 15 lakh, you pay a premium of about Rs. 55,000 a year, if your age is 30 years.
Additional Conditions Covered
Maternity benefit cover is available with the floater plan, which is not there in the Individual health plan. Additionally, you can cover a new-born baby under most family floater plans, which is usually not possible in individual plans, until the age of 5.
Ease of Management
It is relatively easier to manage a single policy rather than multiple individual policies issued for different family members. At the time of claim as well, you can have one policy number to provide the TPA (third party administrator) at the hospital for any of the family members.
Tax Benefit (FY 2020-21)
You can avail the tax benefit under section 80D of the Income Tax Act for the premium paid on your family floater cover. Section 80D allows a maximum benefit of up to Rs. 75,000 if you buy health cover for your spouse, children (Rs. 25,000) and parents (R. 50,000). Although, few health insurance plans can cover the parents in the same plan as spouse and children, you should have two different covers.
Family Floater Plan vs Individual Health Insurance
A comparative analysis between Individual Health Plan vs Family Floater Plan will ease the selection part.
| Family Floater | Individual Health |
| --- | --- |
| Can cover an entire family for the same premium | Covers only one person |
| Add parents and in-laws as well as siblings | Individual Policy will cover only a single person |
| Shared sum assured; i.e. one family member may use up all the sum insured in a year | All the sum insured available to self |
| Get a larger cover at lower premium for entire family | Higher Premium cost for more than one individual plan |
| Avail maternity benefit cover | Maternity cover not available on individual insurance |
| In the case of Family Floater, the premium amount is decided basis the senior-most person's age of the Family. | Premium amount is decided as per age of an Individual |
| Expiry of cover is determined based on the senior most member of the cover; i.e. even the younger members lose health cover if this happens | Cover expires only when the insured crosses the threshold age limit |
How does a Family Floater Plan Work?
Family floater plan's insurance cover works pretty much the same way as individual health cover (see How does health insurance work? For details). The key difference between a family floater and individual health plan is the number of insured people.
So, how does multiple insured under one plan affect the plan's workings? Let's see with a few examples:
Let us understand this better with the help of an illustration depicting below mentioned two scenarios.
Working Case: Family Floater Insurance of Rs. 15 Lakhs
Mr Tiwari has subscribed to a family floater insurance plan with the sum insured of INR 15 lakhs to cover his wife and two children. His policy has the following features:
No claim benefit (NCB) of 5% sum insured up to 50% of base sum insured; i.e. up to Rs. 7.5 lakhs
One restore benefit in the claim year
10% deductible on overall bills
3 months pre-hospitalization and 6 months of post-hospitalization expenses also covered
How will Mr Tiwari's Policy Work?
Mr Tiwari bought the policy five years ago and has not made a single claim in these years. Thus, based on the NCB condition in the policy the sum insured has grown to Rs. 18.75 lakhs in the sixth policy year.
In the sixth policy year, Mr Tiwari falls ill with malarial infection during the rainy season. He spends four days of in-hospital treatment. The total bill at the hospital comes out to be Rs. 34,000. Due to 10% deductible, he needs to pay Rs. 3400 out of his pocket, while the insurer will pay the rest.
Restoration feature did not apply to the policy in the sixth year as the medical bill did not affect the base sum insureds. But the claim in the sixth year would cause the NCB loss in the seventh year and the policy sum insured will come back to Rs. 15 Lakhs.
In the seventh policy year, Mr Tiwari's son met with an accident and spent a month at the hospital. The total cost of hospitalization and treatment was Rs. 2.5 lakhs. The policy paid 90% of the total hospitalization costs. The family also spent about Rs. 50,000 in post-hospitalization care.
After the first claim in the seventh year, the sum insured returns to Rs. 15 lakhs (restoration benefit). Rs 15 lakh is the original base sum insured of the policy. Thus, the family has the full health cover available for another family member.
What Does Family Health Insurance Plan Cover?
Day Care Surgeries/Treatment Coverage: Day-care expenses for advanced surgeries that may require less than 24 hours of hospitalization like dialysis etc.
Pre & Post Hospitalization Expenses: If you have to spend money on medical expenses up to 60 days before the actual hospitalization and up to 1800 days after hospitalization.
Domestic Road Emergency Ambulance Cover: Plan may cover the cost of transport of the insured using road ambulance service. Many plans may cap the cover to a limit.
Outpatient Treatment Cover: An individual can opt for OPD services as an add-on health cover.
Wellness & Preventive Healthcare: Most health policies encourage a healthy lifestyle and may offer coaching and counselling services as added benefits. You may also get an option to have the second opinion for critical health diagnosis.
Hospital Daily Cash, Convalescence Benefit: These features can be opted by an Individual by paying an extra premium amount.
Reset Benefit: In case an Individual exhaust his Sum Insured amount, then 100% of the Sum Insured amount can be reset once in a policy year.
Medical Evaluation: If you are below 46 years of age and have opted for a sum insured of up to 10 lacs, you do not need a medical evaluation.
Life-Long Renewability: Medical expenses incurred by an Individual, up to 60 days prior and 90 days post hospitalization, equivalent to the Sum Insured amount.
Pre-Existing Diseases: The policy will cover the pre-existing diseases after a continuous association of 2 to 4 years.
What Does the Family Floater Plan Not Cover?
Pre-existing diseases for the initial 24 to 48 months (refer to the policy documents for specific details)
Health insurance usually does not cover childbirth
Treatments arising out of attempted suicide, nuclear attacks, etc. are usually not part of the plan;
The Experimental treatment, Treatment for HIV/AIDS, Congenital disease, Non-medical expenses
Now you can also use the top-up facility to an existing health plan, which makes family floater insurance even more attractive option. The top-up feature allows you to add sum insured to your existing benefit amount for a specific policy year. It will prevent your health cover from depleting completely due to a single large claim from a family member.
Therefore, while searching for a health insurance plan for your family, look for the features and benefits you find valuable. Also, another expert tip before the end – "buy for more than one year for an additional discount on the premium."
References: