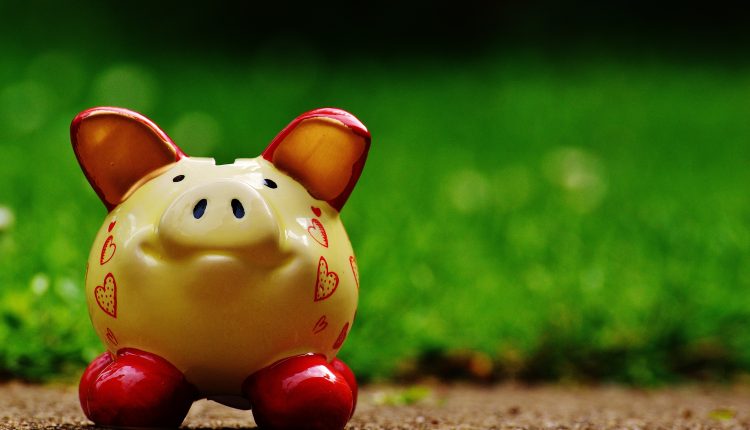 Investing in Recurring Deposit With India Post
Features of Post Office Recurring Deposit
Regular savings through recurring deposits have been the best mode of creating wealth for Indian household. Popular with small businesses, proprietors, homemakers and salaried alike, the post office recurring deposits, offer good growth potential to the savings of these investors. Also, being under guarantee by the Indian Government, these deposits are almost free from the possibility of a loss.
Why Should You Have a Post Office RD (Recurring Deposit) Account?
Rate of Interest (As of 1st April 2017): 7.2% P.A. Compounded Quarterly (Rs. 10 P.M. deposit will give you Rs. 723.14 at the end of five years)
Disciplined Savings
Post office recurring deposits have a penalty system for missed or late investments. Although the penalty amount is small, it sure hurts as the rate of return is fixed. Also, there is a rebate on advance deposits. Just in case if the penalty is not enough motivation for timely investment, rebates will motivate you to deposit early. (see table below for the rebate and penalty amounts)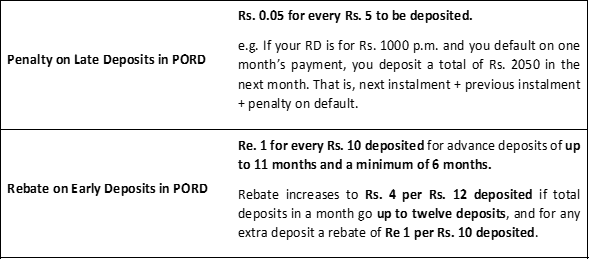 Minimum Investment Amount
A 10-year-old person can start post office recurring deposit with just Rs. 10 per month. And there is no maximum limit for the deposit. So, start early, and remain an RD investor throughout your life, this investment never gets old. Best instrument to start teaching your kids about investments.
Open Any Number of Accounts
There is no limit on the number of RDs you can operate in a single post office. If you are a small business owner or proprietor you can even operate a different account for your daily deposits of excess money.
Open a Joint Account with another Adult
Started investing couple months back, now getting married? Don't worry, you can easily convert your single account to a joint account in PORD. Also, adding nominee or changing it is easy in this investment product from India Post.
Open through Cheque or Cash
The best thing about operating Post Office RD account is that the investor need not have prior banking experience or account. You can start with cash, or simply open a savings account in the post office itself. Operating post office savings account is simple and RD can be directly connected to this account for timely deposits.
Deposit Your Monthly Instalments by cheque or cash
Similar to the account opening, even further deposits need not be through cheques, simply deposit cash or cheque, whichever is feasible for you at the time.
Provides better liquidity
PORD account allows withdrawal of up to 50% of the balance right after completion of one year from the opening. Compared to bank FDs (withdraw the whole amount after a penalty on interest) and other similar investments (no withdrawal up to 3 years) this is a far better condition.
Other Conditions of Operating a PORD Account
Extension of Recurring Deposit:

Investors can extend the account for another five years in blocks of one year each, after the completion of initial five deposit years.
Make additional deposits in the account in this period.
The monthly deposits in the extended period should be equal to the deposit made at the beginning of the account.

Premature Closure:

The investor can close the account prematurely only after three years from the opening date.
Applicable savings account interest is payable for all the years the account has been operational.
In the case of advance deposits, the account will continue for the time for which the investor has deposited the money in advance.

Portability of Post Office Recurring Deposits:

The Account is portable from one post office to another.
To open a PORD Account click here to locate a post office branch near you.