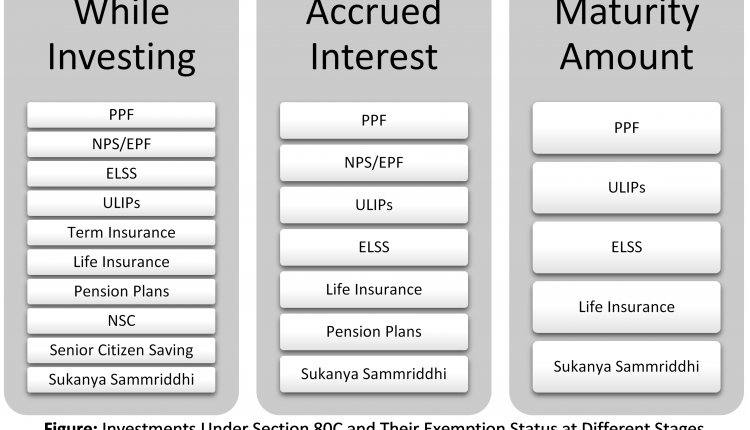 Tax Saving Schemes Under Section 80C of Income Tax Act for Salaried and Self-Employed, A.Y. 2021-22
Section 80C is the most popular section of the Income Tax Act, as it helps the million salaried and self-employed individual taxpayers, save taxes through investments. The deduction limit of Rs. 1.5 Lakhs under Section 80C covers the sections 80CCC and 80CCD. Thus, the investments applicable under 80CCC and 80CCD also count when we talk about 80C deductions.
Here's a list of all the eligible investments and expenses for deduction under section 80C (investments first):
Investments Under Section 80C
Life Insurance Premium
Life insurance is one of the essentials of personal finance. An adequate life insurance cover helps your family survive and achieve their life goals even if after your untimely demise. Accounting for the importance of life insurance Income Tax Act of India allows taxpayers a deduction on the premium paid for life insurance cover on their life.
The following types of plans fall into this category:
Term Insurance Plan
Endowment Plans
Money-Back Plans
Unit Linked Insurance Plans (ULIPs)
Unit Linked Insurance Plans, or ULIPs, are a variant of life insurance plans with an option to invest your money a little more aggressively. ULIPs are more beneficial as an investment option rather than a life cover. Even after investing in ULIPs, you should always have a term insurance cover as long as possible.
ULIPs are comparable and even better than mutual funds at many levels. You can invest in any of the following fund options through ULIPs:
The most attractive provision of ULIPs is that you can invest in either of the options or divide your investment among all of them. Even within the lock-in period of ULIPs, which is 5 years, you can switch between funds anytime and without incurring any tax liability.
Just make sure your annual premium for the ULIP plan is not more than 10% of the Sum Assured you have selected.
Equity Linked Savings Scheme (ELSS)
Equity Linked Savings Scheme is a specific type of equity mutual fund, which is eligible for deduction under section 80C. As the name suggests, this is a pure equity mutual fund scheme, where up to 95% of your contribution is invested in equity stocks.
ELSS funds have a lock-in period of three years, which means, you cannot sell the units before 72 months of purchase. ELSS is a good tax-saving option for young unmarried taxpayers, who can afford to invest aggressively and want to save tax simultaneously.
The maturity value of ELSS funds is not taxable as it is an equity fund, and long-term capital gains from equity funds are exempt.
However, you should always compare the expense ratios of these plans, which could be way higher than normal equity mutual funds and even comparable ULIP plans.
Employee Provident Fund (EPF) Contributions
Employee Provident Fund has been one of the primary instruments for retirement savings for thousands of salaried taxpayers. The best part, the deduction from salary is fully automated, and so is the deduction under section 80C.
The usual deduction is limited to 12% of the basic salary for employees. However, as per the new norms of the latest Budget announcement, government employees can contribute up to 16% of their Basic salary to EPF and claim tax benefits under section 80C.
Please note that most private employers display their part of the EPF contribution as part of your CTC. However, that does not mean you can claim an additional deduction for EPF contribution from your employer.
National or New Pension Scheme (NPS)
New Pension Scheme or National Pension Scheme is an amazing investment option for your investments towards your retirement goal. For anyone starting employment at a young age, time till retirement is enough to grow their wealth exponentially. However, that would only happen if you can invest in the right options, and a little bit more aggressively than traditional pension schemes.
NPS allows you to invest up to 50% of your total contribution to the equity fund while the remaining amount goes to safer Gilt options. This way, over a long period of time, your retirement corpus, gets a shot in the arm with equity performance.
You can choose to let your NPS portfolio automatically adjust for investment risk as you near your retirement. At the time of retirement, your entire retirement corpus would be in safe options.
Another useful feature of an NPS account is that even your employer can substitute NPS for EPF. The maturity value taxation of NPS is the same EPF from FY 2019-20 onwards. Therefore, any disadvantages that NPS had over EPF are now gone for good.
Imp for NPS Investors: You can save an additional Rs. 50,000 if your employer directly contributes to your NPS account under Section 80CCD(1B).
Pension Plans from Life Insurance Companies
Pension plans from life insurance companies have long been an alternative investment option for EPF contributors and self-employed taxpayers alike. There are two types of pension plans offered by life insurers:
Deferred Annuity Plans
Immediate Annuity Plans
Deferred annuity refers to those plans where the investment period is longer than a few months. For example, you start investing at the age of 30 and stay invested till 60, before the pension starts from the plan.
The immediate annuity has no investment growth period. You can invest a large sum today to convert it into standard monthly income.
The taxation rules for the maturity amount from a pension plan remains the same as EPF. Any regular monthly payment is counted as salary income and taxed while the corpus from a deferred annuity can be divided into the pensionable amount and lump sum pay-out.
Public Provident Fund (PPF)
Public Provident Fund has been one of the safest and most tax-efficient saving options for retirement. PPF was specially introduced for the self-employed section of the country, which lacks access to organised retirement plans like EPF.
You can start investing in PPF with as much as Rs. 500 a month and can invest up to Rs. 1.5 lakh a year. While you can operate multiple PPF accounts in the name of your kids and spouse, you may only invest a total of Rs. 1.5 Lakhs in these accounts combined.
Sukanya Sammriddhi Yojana (SSY)
Sukanya Sammriddhi Yojana is quite similar to the PPF in almost all parameters of investment management and contribution limits. However, one crucial factor that differentiates SSY from PPF – SSY can only be opened in the name of a minor girl child.
SSY is a great instrument to transfer wealth to a girl child without incurring capital gains or any other tax liability on the child or parent. Read more about SSY here – Sukanya Sammriddhi Yojana at TheSWO
National Savings Certificate (NSC)
National Savings Certificate VIII is the reincarnation of once-popular NSCs. The tenure of NSC VIII has been made at par with other tax saving investment options. Thus, NSC VIII keeps your money invested for five years, and all the interest generated in the meanwhile is assumed reinvested.
The reinvested interest doesn't attract tax within the holding period of NSC. However, the final year interest will become taxable as it is not reinvested in NSC but paid out to the investor. You will need to add the accrued interest for each year to your taxable income before you can claim deduction under section 80C.
Therefore, it is advisable that you invest slightly less than Rs 1.5 Lakh (or the 80C Limit of the FY) so that you can claim the entire proceeds as tax-free. Else the interest will add to your income and become taxable.
Five Year Tax Saving Fixed Deposit (Banks and Post Offices)
You can invest in five-year term deposits eligible for 80C deduction, through your bank and gazetted post office branches. While the interest rates may vary from year to year, term deposits are meant for holding through the entire term, meaning no withdrawal or liquidation before five years.
Also, the accrued interest on five-year term deposits is taxable as income and TDS is deducted every year on it. Thus, while these deposits do get you a deduction under section 80C, they are otherwise not very tax-efficient when compared to other popular options.
Senior Citizen Savings Scheme (SCSS)
Senior Citizen Savings Scheme is a great option to park lump sum money and let it grow safely for five to eight years. The normal maturity period of the deposit is five years, but you can extend the deposit for another three years.
You must request the extension within one year of maturity. The maximum limit of deposit in this account is Rs. 15 Lakh. The deduction limit under section 80C for this account also remains limited to Rs. 1.5 Lakh.
The minimum age at which you can open an account is 55 years.
Expenses Eligible for Deduction Under Section 80C
School Fee for Children
The tuition fee paid for full-time education at any registered school, college or university qualifies for deduction under section 80C. The benefit is available only for up to two children. For example, if you have three kids, and you are paying a total of Rs. 90,000 as fee in the financial year, you can claim only Rs. 60,000 under section 80C (assuming fee is equal for each kid).
When both parents are earning, the deduction can be split between them.
Home Loan Principal Repayment & House Registration
Principal repaid on a home loan is eligible for deduction under 80C, and for senior citizens, the deduction goes up to Rs. 2 lakhs. The only condition for the deduction to continue is that the property is not sold within five years of acquisition.
The registration cost of house property also qualifies for deduction under 80C. The deduction can be claimed in the year it is incurred.
First time home buyers can claim an additional deduction of Rs. 50,000 under section 80EE. The only condition is that they took a home loan in the financial year 2016-17 and did not own any other house property in India at the time of sanction.
Start Early to Save More
All of us know that being early has its own perks, and tax saving is pretty much the same. Many of the salaried taxpayers, often fail to start tax saving investments early on and find their income disappearing in the last three months of the financial year.
If you want to get out of that cycle, now's the best time to start.