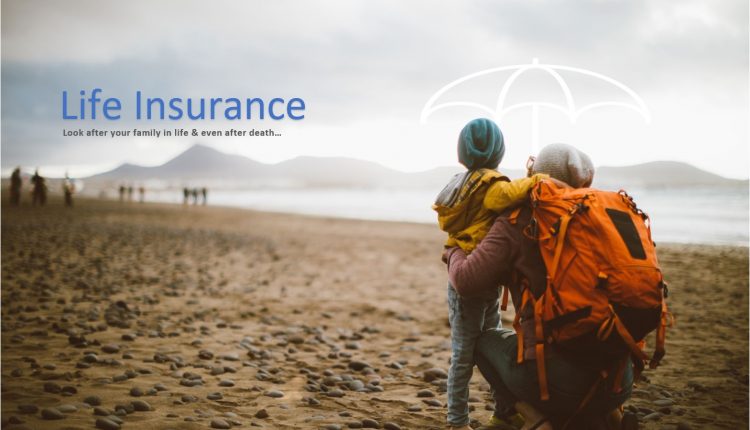 Family forms a complete economic unit in a society. A family contains one or two breadwinners and may also contain children. Children will become valuable contributors to society in future, provided, they can meet their goals. Life insurance can help the children meet their financial goals even after the death of the primary breadwinner.
The untimely death of the earning member in a family can cause it to fall-apart financially and degrade the survivors' social and economic status. For example, the children of the family cannot attend their regular schools, and the next generations could be thrown into a cycle of poverty.
One solution to this problem is that society can try to collectively take care of the families until they can stand on their feet financially. Such support systems may work in small communities but suffer from drawbacks at larger scales. However, as the societies grow large the support system needs to be more organised to ensure equitable distribution of aid.
Life insurance is the more organised and capable social support system for families suffering from breadwinner's untimely demise. It efficiently distributes the burden of financial support to bereaved families. Large life insurance companies are responsible for managing and providing benefit.
Multiple Benefits
Life insurance is a financial cover which protects against loss of human life. A life insurance policy also guarantees financial protection against life risks like an accident, disability, and the natural income loss component, post-retirement. Therefore, you can seek income value benefit, in case of life contingency or upon retirement, through a basic life insurance coverage.
A life insurance cover will typically compensate for the loss of income to a household. It does not calculate the human loss but determines the monetary value loss to a household. This loss should happen due to breadwinner meeting with an accident leading to his death or permanent and partial disability. The insurance company is then liable to pay the sum insured to the mentioned nominee of the deceased in the policy contract.
To summarise life insurance benefits not only families but also the society at large:
Maintain the financial status of the families who lost the primary breadwinner
The societies and communities can maintain their economic status
Insurers can accumulate large corpus, which helps the liquidity and boost the economy
Life Insurance is a Contract
Life insurance is a contract between an individual and a life insurance company. The life insurance company is also called 'insurer'. The insurer agrees to pay a sum of money to the nominees of the individual upon his/her demise as per the conditions of the contract.
The conditions in a life insurance contract involve the following
A 'premium' for the agreement payable by the insured
Conditions under which the benefit (sum assured) becomes payable
Conditions when the benefit is not payable; i.e. exclusions
The maximum tenure of the policy & benefits
Amount of benefit payable under different conditions
You can pay the premium either as a one-time payment or as a regular sum. 'Insured' is the individual whose demise will trigger the insurer's part in the contract. Nominees are usually immediate family members or financial dependents of the insured.
Another way of looking at life insurance is that it distributes the risk of the untimely demise of a breadwinner to a larger society at a nominal cost.
Example
10,000 families reside in a city and every earning member of the family has similar economic value and age. As per the historical records, on an average every 5 years one earning member dies and the family needs an average of Rs. 10 Lakh to continue to meet their financial needs.
The city needs to maintain a corpus of Rs. 10 Lakh every five years to support the suffering families. If all 10,000 families opt for life insurance cover, each surviving breadwinner needs to contribute Rs. 20 per year to build the corpus.
Rs. 20 becomes the annual premium here.
[calculation*: Rs. 20 = Rs. 100 / 5 years = Rs. 10 Lakh / 10,000 families]
* This is an overly simplified calculation only for illustration purposes. Real-life insurance premium calculations are different and involve multiple factors. For details see: How to Calculate the Life Insurance Premium?
Modern life insurance policies cover individuals even from disabilities, as disabilities may lead to the loss of earning capacity.
Why Should You Buy Life Insurance?
A life cover is needed to cover the general or personal risks to your life. it is needed when:
You face the risk of dying too soon which can arise from a family history of a disease, say cancer, for example, or if you are doing a risk-based job like working on a construction site. These are personal risks. In general, too, each one of us faces the risks of dying because of common life uncertainties like meeting with a road accident or suffering from a heart attack due to the lifestyle disorders of today.
At the same time, you need a life cover to benefit if you live too long. A life insurance cover offers benefits like pension payouts post-retirement, etc.
Therefore, you need a life insurance cover for:
Giving a financial benefit to your family in case of a life mishap
Getting a retirement benefit
Guaranteeing income benefits like financing your child's education or marriage in your absence
Covering a loan expense in your absence, etc.
You have an option to cover your spouse or children in the life insurance cover. The insured needs to specify the nominee and share the nominee details in the life insurance policy contract. Depending on your exact need, you can change the nominee details during the course of your life insurance contract.
How Much Life Insurance Cover Do You Need?
There are a host of factors which will determine the exact amount of insurance coverage, which in turn, will determine the amount of annual premium you need to pay for a fixed period.
Typical factors to be considered include
How many dependents you have in your family
What is your current lifestyle and what kind of lifestyle you seek to provide to your near and dear ones
Whether you have taken a loan, the amount of which needs to be covered in the financial benefit of a life insurance policy
Your child's education expense
Other investments
Affordability
Depending on your exact needs and requirements, you can search online for the best life insurance cover. There are many types of policies available today, to meet your exact requirement, say pure term insurance plan to provide the death benefit, or child insurance plans and annuity (pension) plans to guarantee you insurance benefits respectively.
Eligibility Criteria of Insurers
In any case, insurers have their own pre-defined limits for offering maximum life protection. Insurer's criteria are usually based on the following factors:
Your annual take-home income
Type of Profession
The premium cost of the insurance cover
Annual Take-Home Income
Maximum life cover an insurer can offer you goes up to 20 times of your annual take-home income. However, this is only the maximum limit for insurers. Usually, subscribers can receive 10 – 15 times of their annual income as the sum assured of their all life insurance policies combined.
Other two factors may limit your eligibility for the maximum cover.
Type of Profession
Like any other financial services firms, insurers too want to ensure a safe line of cash inflow. Thus, they consider the risk of losing this line before offering a cover. Additionally, they need to ensure that all policies follow the basic principles of insurance and avoid any hazards.
One of the hazards of insurance is 'moral hazard' which literally means, 'individuals maliciously trying to benefit from insurance'.
For example, an individual employed in an assembly line loses his job due to automation. He has a large life insurance cover with a high premium cost. This can lead to:
Normally, he would stop paying the premiums until his financial situation improves.
In worst cases, he may deliberately force a claim so that his family can receive the money.
Insurers would like to avoid both situations.
Premium Cost of the Cover
Different types of life insurance plans have different premium costs. The premium cost is further affected by the health conditions and other factors (see: How to Calculate Your Life Insurance Premium).
As stated earlier, insurers would like to receive premiums without gaps. Thus, insurers maintain that the premium cost should not become a burden on the individual.
If your premium cost for the proposed sum assured goes beyond the limits that insurer finds are not reasonable, they may reduce the sum assured. This will automatically bring the premium down.
The Life Insurance Decision
You should get a life insurance cover based on your family's financial needs and their long-term financial goals. For example, a pension plan can create a steady flow of income post-retirement. You may not need to necessarily depend on your children for your steady flow of income in this case.
Likewise, during your employment, if you seek to protect your family financially, a term plan is advisable. A term plan will immediately provide finances to your family if you are no longer there to support them.
References: